Winter rains in summer-dry climates are cause for gardens, and their gardeners, to rejoice. So you gardeners can imagine the joy  of our recent rains.  I spent each day this past weekend working in the garden, in the rain, in rapture.   The earth is breathing, sighing, releasing its bonds.  Immediately everything in my garden perked up.
The ground is spongy.  Leaves washed clean.  The air's clean, wet, and rich with whatever ions the earth is giving off.  Frogs are croaking.  Snails have returned. Weeds and wildflowers have sprouted.
Mostly I am just cleaning up, pruning all those shrubs I never got around to working with.  Without rain there has been no energy for the garden.  We are still way behind what we need and I am not planting anything new this year.  We are almost certainly going to be on mandatory water rationing.
But these rains have soaked in.  The roots of tree and shrubs are wet again if only for a few days, if only for a few weeks, but certainly for the first time all season.  I am happy for them.  The native shrubs in particular, those that survive with no rain all summer really need winter rain.
As I walked giddy in the garden this weekend, bouncing from one plant to the next saying hello and how are you, I noticed spring.  As I pruned and groomed my pretties, nipping a branch here, cutting back deadwood there, I saw the early buds, the fresh life, the promise of spring.
There is still plenty of evidence of the killing frost we had in December.  My Fuchsias may never recover.  My Myer lemon is leafless.  The Melianthus is nothing but sad spires of spent leaves.
But that is the way of all things.  Right next to this sad remnant of the cold, (see them behind the dead leaves ?), the Euphorbia is coming to life.  Just in the past few days.
There is so much positive.  The very first Magnolia soulangeana bud cracked open.
The Pink Dawn Viburnum has opened
Even the rain drenched Camellias look good in the rain, their petals quickly becoming soggy tissues.
Their waxy white bell blossoms, seemingly like snow when they fall, are blooming more profusely than ever; perhaps because of the drought, or perhaps because of last year's winter pruning when I opened up them up. They are delicate but tough and a delight to the bees.  I did a PhotoBotanic study of their flowers, explained in the next post. An illustration merging 6 exposures of different focus points, then  extracted the branches from the background in PhotoShop.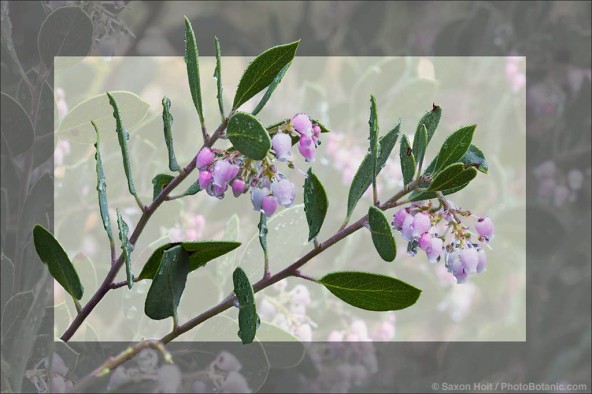 Prints are for sale on Fine Art America. I am anticipating doing more PhotoBotanic illustrations.  The rains have assured spring if only for the California natives and I will be sure to do the Ribes, the queen of the native shrubs when it opens fully in a few weeks.  Bring on the rain!